Okay so I'm sitting at the beach, listening to "yacht rock", drinking a smoothie, and working… Wait? How old am I? 95?
Maybe this move to Florida turned me into an old woman! 🙂
Here's my current view…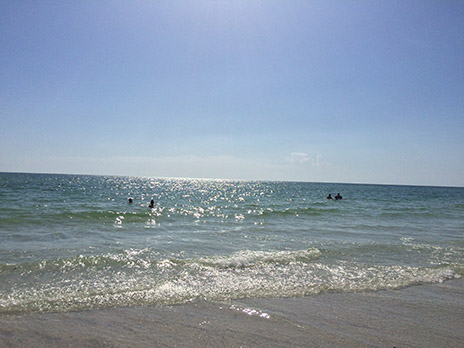 Well maybe I'm getting old, but this all inspired this amazing tutorial I've put together for you. I'm going to show you exactly what I would do to dominate the Pokemon Go niche.
Now before I get nasty emails let me say I don't really think that the Pokemon Go niche is a stupid niche. I play from time to time, but since it's such a big craze right now I'm going to be using it as an example in this tutorial.
So let's get started…
The first thing I would do is of course research the niche thoroughly. I usually spend a couple of days doing this. For the Pokemon Go niche Barb Ling has created a cheetsheat that made this REALLY REALLY REALLY easy for me. You can see it at http://backpackbusinesslifestyle.com/PokemonGoNicheCheatsheet
Step 1: When entering any niche the first thing you need to do is set yourself up a squeeze page so you can begin building a list in it. By having a list in the niche you can email them anytime you have something that you can promote that makes you money.
So in the Pokemon Go niche I would pick up this report >>> http://contentwithplr.com/MakeMoneyWithPokemonPLR
I'd use it as a giveaway on my squeeze page because it's really high quality stuff and wont need much editing. I can literally just add my name to this one and I'm done.
Step 2: The next thing here is getting something that I can turn into a product and sell to the list I'd be building in this niche. There are a couple of products that I found that would allow me to do this…
Pokemon Go Video Tutorials – http://contentwithplr.com/PokemonGoVideosPLR
Pokemon Go Report – http://contentwithplr.com/PokemonGoReportPLR
You want to find as many products that you can and set them up for sale so you can sell them to your list. Each time you find a Pokemon Go PLR product, buy it, set it up, and send your list an email.
The two mentioned above done't come with sales letters. I'm not sure if they are offered as upsells or not, but if you come across PLR products and they don't have sales letters, don't let that stop you. If you have no sales copy skills you can find someone to write a sales letter for you over on the Warriors For Hire section on the Warrior Forum at http://www.warriorforum.com/warriors-hire
Step 3: Create a series of emails for those who join your list at your squeeze page and load them into your autoresponder. These emails should initially build your relationship with your readers (give them free stuff, tell them about you playing Pokemon Go, etc). The rest of the emails can point them to the products you setup in step 2. And as I said when you find more PLR products that you can setup make sure and email your list about them and add those new emails to your autoresponder.
Step 4: Start promoting your squeeze page!
If you've done the steps above everything will be automated. The emails in your autoresponder will get everyone who subscribes at your squeeze page in front of the products you've setup for sale.
You can also get PLR to promotional materials. Things like articles, blog posts, etc. Here are a few resources:
1. The upsell to the PLR report I mentioned in Step 1 is for articles about playing Pokemon Go. You could use these articles in many ways to promote your squeeze page. Like post them on a blog and then post your blog link to Facebook and other social media channels.
2. Pokemon Go 101 Report – You could use the content in this just like I described above. >>> http://contentwithplr.com/PokemonGo101PLR
3. Pokemon Go Article Pack – This is more great content for you to use! http://contentwithplr.com/PokemonGoArticlesPLR
Whatever you do though you've got to promote that squeeze page to start building your list and getting people to your emails that get them in front of the products you have for sale!
As I said… Once you have this system all setup all your left to do is promote your squeeze page. We could get real advanced and talk about…
1. Tracking your optin rate and tweaking your squeeze page so you get more subscribers
2. Tracking your open rates on your emails and tweaking subject lines to get more readers opening your emails
3. Tracking the clicks in your emails and tweaking them to get people clicking and buying your products from your sales pages
4. Tracking sales at your sales pages and tweaking your copy to make more sales
But this is a short and sweet tutorial on using PLR products to dominate a niche and not a full blown marketing tutorial, but the way to make a lot of money is to at least do the 4 things I just mentioned once you have everything setup.
So what are you waiting for? Ready to dominate the Pokemon Go niche? If not this niche you do have have the knowledge you need to go dominate any niche you want. Just use the steps I showed you above in your chosen niche!
Hope you've learned a lot here and if you have questions or comments please leave them below!
Liz